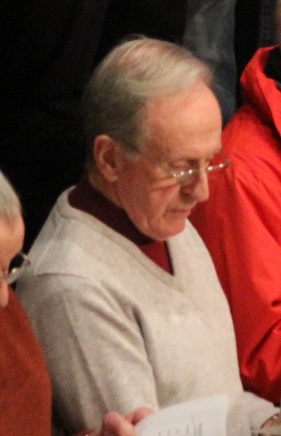 Jim Cowell
Manx born and a retired [in 1994] Chartered Accountant and partner with the firm ultimately known as Ernst & Young.
His association with Isle of Man Choral Society started in 1986 when he was persuaded to join the choir then known as The Teachers' Choir under the baton of Alan Pickard. His first concert in 1987 was singing Handel's Messiah and he remembers the thrill of singing with a large choir in a dinner jacket with Isle of Man Symphony Orchestra and to cap it all in front of a large audience at the Villa Marina. In addition, all this was despite no musical training whatsoever and this remains the case today other than vast experience gained in singing in choirs and latterly under the direction of Julian Power BEM.
When the choir's founder, Alan Pickard, retired as Musical Director in 2002, Jim was one of a small group of members asked to take over the running of the choir since when it has gone from strength to strength. From 2002 until May 2013 Jim was secretary and Trustee and handed over to Brian Holt who remains in that position today.
Brian adds that Jim handed over his papers in 100% good order and made the changeover seamless and easy.
Jim's wife Chris sings alto in the choir, and his sons David and Peter were both members in the old Manx Youth Choir which has recently been resurrected as the Mannin Youth Choir by Mandy Griffin and Graham Kirkland. His hobbies are playing golf three times per week at Peel GC and of course enjoying the company of twelve wonderful grandchildren whenever possible.
Jim stepped down from the committee at the Annual General Meeting in September 2019.
He will miss the running of the choir and moreover working under the leadership of Charles (Charlie) Fargher MBE Chairman, and Director of Music Julian. The committee will miss his wise counsel but will still be able to bend his ear as he intends to go on singing with the basses forever and ever [as he has sung in the Hallelujah Chorus in The Messiah!]